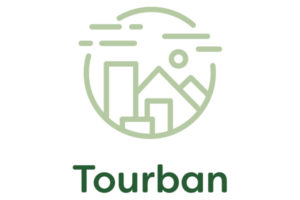 The project, named TOURBAN (Accelerating SME capacity and innovation for sustainable urban tourism) intends to strongly contribute towards the specific challenge of the call, which is to foster the adaptation of European tourism companies towards more sustainable, low-carbon and resource-efficient business models.
TOURBAN recognises that small and medium-sized enterprises, as they are the backbone of the tourism sector, are essential players in this movement towards sustainability through innovation, responsiveness, efficiency and the provision of specific skills and resources. Yet, SMEs must be further sensitized and given better access to knowledge, capacity and investment if they are to become sustainability catalysts.
The partnership also understands that cross-sector collaboration is required if sustainability and circular strategies and practices are to be implemented (to close loops). Yet, SMEs often lack the network, contacts and time required to establish such cross-sector relations.
On the other hand, new and often unseen challenges and threats are emerging for tourism SMEs. These challenges, which shall continue to sharpen in the future, refer to changing customer preferences and resources constraints. An interesting trend influencing purchasing decisions is brand trust, which explains why third-party certification and labelling programmes of operating tourism business are becoming so common. Also remarkable is the concerted effort of public agents and private sector in many parts of the world to adopt new commitments and standards towards more resource-efficient models and responsible production and consumption patterns.
These trends are of particular relevance in urban tourism, as cities are experiencing an extraordinary tourism growth especially throughout Europe. Research proves that this consolidated trend is greatly increasing the pressure on cities to manage the urban transformations derived from touristification and gentrification and other negative impacts of urban tourism such as precarious hospitality working conditions. The dramatic growth of tourists and accommodation capacity in major European cities (such as Amsterdam, Barcelona, Copenhagen, Dubrovnik, Hamburg, Tallinn and Budapest) has led to an increase of tourism intensity, sharpening the pressure on urban (limited) resources, and challenging the cohabitation between residents and visitors.
In view of the above, TOURBAN is concentrating its efforts in tackling current challenges of sustainable urban tourism SME business development in an era of tourism visitor pressure.
For more information please visit the official website of the project: https://www.tourban.eu/
In sum, the specific objectives to be achieved by the tourism SMEs that will benefit from financial support are:
1.To share and exchange knowledge on tourism sustainability challenges, especially in urban contexts,
2.To participate in networking, seeking to engage in cross-sectoral and transnational collaboration,
3.To develop their capacity to:
become effective engines of innovation for green, circular and climate-friendly technologies, and/or
become environmentally friendly and/or socially responsible businesses adopting internationally recognised certificates and labels, and/or
adopt sustainable (circular principles) business concepts, and/or
implement practices that turn their operations more sustainable, for instance, in (plastic) waste management and natural resources management for SME business operations.
4.And ultimately improve their sustainability and competitiveness, by reducing costs, decreasing resource consumption, developing new and increased revenue streams, and gaining better visibility and positioning.
Project duration: 30 months, Start date: 2020. October
Project Coordinator: Barcelona Official Chamber of Commerce, Industry, Services and Navigation (BCC)
Participant Organisations: B.LINK Barcelona Strategic Projects S.L. (B.Link), Institute for Tourism Research in Northern Europe (NIT), Estonian Chamber of Commerce and Industry (KODA), Breda University of Applied Sciences (BUAS), City of Dubrovnik Development Agency (DURA), Creative Business Network (CBN), Hungarian Hospitality Employers' Association (VIMOSZ)
Total budget: € 1.3 million
Target groups: travel agencies, tour operators, program organizers, hotels and other accommodation, as well as SMEs that may be able to contribute in some way to achieving the targeted results.
Final product: 60 companies (including 7 Hungarians) who have participated in training may have a new environmental certificate and good practices applied by the previously mentioned cities.
Place of implementation: Budapest
Contributors: Local stakeholders and SMEs who can contribute to the initiation and implementation of political tasks.
A specific condition for participation in the project is the submission of an application material, the evaluation and assessment of which is based on 3 main criteria (and several sub-criteria within it):
Excellence:

Relevance: Applicants must demonstrate how their proposal addresses one or more of the city's challenges and articulate their needs to become green / resource efficient.

Ambition: Applicants must demonstrate the extent to which their proposal goes beyond the solutions currently in use.

Innovation: Applicants must describe the elements of innovation used in the process of labels / certificates and solutions and other practices.

Effects:

Environmental / social / economic impact: Applicants must describe the environmental, social and economic (ie potential improvement of competitiveness) impact of the application of the solutions.

Reproducibility: Applicants must demonstrate the level of replicability of the solution in the tourism sector.

Implementation:

Skills and experience: the applicant must present his / her portfolio, certificate / references, past results and employees affected by the project.

Strategy: the applicant must demonstrate that the results of the project can be incorporated into their own business model or long-term strategy.

Sources: the applicant must demonstrate how the project would affect its cost-effectiveness.
Evaluation of applications: 0-5 points are available for each criterion, including half points. Applications that exceed the 3/5 threshold for each criterion will be considered successful and their total score will reach 10/15. Exceeding the threshold does not automatically mean that the application is successful. As a comprehensive (transversal) criterion, the evaluators also rate the existence of cross-sectoral and transnational cooperation when assessing applications.
Expected results of the project:
Involve at least 100 participants in a network of transnational and intersectoral businesses, sustainability experts, tourism professionals, leaders, influencers, and other key actors, committed to sustainable urban tourism and the sustainable tourism industry.

Development of a "Boosting Sustainable Urban Tourism" program by experienced business support organizations (BSOs) in collaboration with tourism experts. Provide support to facilitate the adoption of sustainable solutions, practices and experiences.

More than 140 SMEs will have more information and become better prepared to adopt sustainable strategies and circular economic practices.

Establishment of an Innovation Laboratory and an investor tender involving at least 120 SMEs from partner countries.

At least 60 SMEs will receive support and assistance for the implementation of sustainable strategies (including the adoption of EU certification schemes such as the EU Ecolabel and EMAS, as well as circular economy practices).

The project will result in at least 22 transnational and / or intersectoral partnerships between tourism SMEs.

Writing an e-handbook entitled "A guide for tourism SME leaders on sustainable urban tourism".